Posts for: February, 2020
By Dynamic Dental
February 20, 2020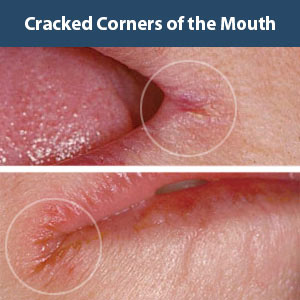 While a relatively minor health issue, cracked mouth corners (medically known as angular cheilitis) can certainly be irritating. Fortunately, you don't have to live with it—we can help reduce the discomfort and even make it less likely to happen in the future.
 Angular cheilitis is most characterized by redness and fissures (or cracks) in the skin at the corners of the lips. It commonly happens in younger ages (children to younger adults) because of drooling or complications from wearing braces. Older adults can also develop cracked mouth corners due to wrinkling around the mouth. The immediate causes are usually localized to the mouth and lip region, but it can sometimes arise from systemic conditions.
A case of angular cheilitis can also become infected, usually with a strain of yeast known as "candida albicans," which then intensifies inflammation and discomfort. This is usually due to interaction between saliva and the open fissures, helped along by people's tendency to habitually lick these cracks (hence the other name for cracked mouth corners, perleche, from the French "to lick").
The best way to treat angular cheilitis is with a series of applications of oral or topical antifungal medication. These may also be combined with steroid ointments that help retard redness and inflammation. If the infection involves the inside of the mouth, you may also need to use an antibacterial rinse until it clears up.
There are also things you can do to minimize future occurrences. Be sure to have missing teeth replaced or loose dentures refitted, and stay vigilant with daily brushing and flossing. You might also consult with a dermatologist about ways to treat wrinkling around the mouth. And easing those wrinkles could not only minimize your chances of developing angular cheilitis, but also give you a more youthful appearance.
Cracked mouth corners can be unnerving. But with a few simple steps we can help relieve any current discomfort and help you reduce the chances of another occurrence.
If you would like more information on cracked mouth corners and other oral irritations, please contact us or schedule an appointment for a consultation. You can also learn more about this topic by reading the Dear Doctor magazine article "Cracked Corners of the Mouth."
By Dynamic Dental
February 10, 2020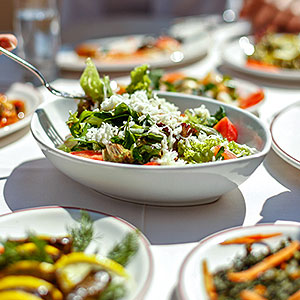 There are a number of lifestyle changes you can make if you want to reduce your risk of oral cancer, with quitting a tobacco habit at the top of the list. You should also moderate your alcohol consumption and practice safe sex to prevent the spread of the human papilloma virus (HPV 16) linked to oral cancer.
And there's one other area that might be ripe for change—your diet. The foods we consume can work both ways in regard to cancer: some, especially processed products with certain chemicals, increase your cancer risk; more natural foods, on the other hand, can help your body fight cancer formation.
Although how cancer forms and grows isn't fully understood, we do know some of the mechanisms involved. One major factor in cancer growth is damage to DNA, the molecule that contains all the instructions for normal cell growth. Certain chemicals called carcinogens cause much of this DNA damage.
One example of these dangerous chemicals are nitrosamines, found in substances used to preserve meats like bacon or ham. Nitrosamines also occur in beer during the brewing process, some fish and fish products, processed cheese and foods pickled with nitrite salt. It's believed long-term consumption of foods with these chemicals can increase the risk of cancer.
On the other hand, there are foods with substances called antioxidants that help our bodies resist cancer. Antioxidants protect cells from unstable molecules called free radicals that can also damage DNA. You'll find antioxidants in abundance in fresh fruits and vegetables, especially those high in fiber. Vitamins like C and E found in many natural foods also have antioxidant properties.
So, to help keep your risk of cancer and other diseases low, make sure your diet includes mostly fresh fruits and vegetables, along with plant-based fats found in nuts or olive oil.  At the same time minimize your consumption of processed foods with preservatives and other chemicals, along with animal and saturated fats.
A change in eating not only reduces your cancer risk, it can also improve your overall health and well-being. You'll also find a healthy diet can be dental-friendly—it can help keep your teeth and gums disease-free and healthy.
If you would like more information on dental-friendly nutrition practices, please contact us or schedule an appointment for a consultation. You can also learn more about this topic by reading the Dear Doctor magazine article "Diet and Prevention of Oral Cancer."